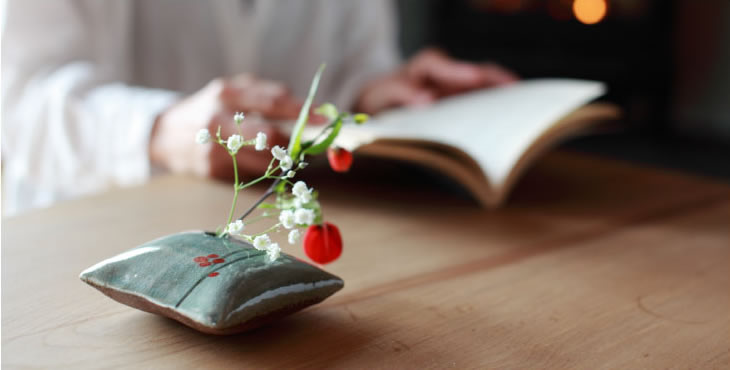 Vases for Four Seasons
People have been decorating their rooms with flowers and plants since a long time ago.
Japanese people have a habit of loving to see flowers and plants blooming in the different seasons, such as viewing the cherry blossom and the autumn leaves. In the field of flower arrangement, it seems that the custom of putting flowers into vases started from the HEIAN ERA long ago. Originally, they used standard vases, but after a while they started to produce dedicated vases especially produced for displaying flowers. Although our flower vases are a diversity from other flower bowls, with such similarities as color and material, the rustic texture of Shigaraki ware makes natural plants look more attractive.
Color your Room with Casual Taste
A simple and rustic design that fits any room is complimented by flowers and plants.Speaking of flower vases, we commonly see them displaying plants and flowers. But the flower vase of MEIZAN is a unique design that makes you feel like there are flowers even if there are no real flowers in it. We make these to a little smaller size so that it can be placed in any room. Put seasonal flowers in a vase and add color to the interior of your room.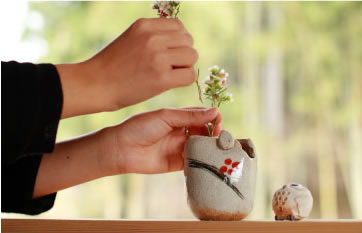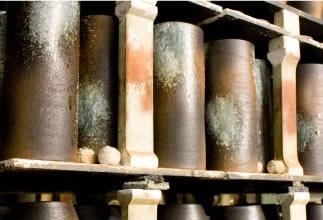 Boldness and Delicacy
Fascinated by Daring Design
A simple and rustic design that fits any room and compliments flowers and plants. A unique design that is not stuck with the traditional shape of flower vases entertains our eyes. Pottery products have the special characteristic that "they can not make exactly the same thing – each one is unique." We are aiming for a design that is not confined to the traditional "flower vase" type. Flower pictures drawn carefully into the innovative design, such as pillow and circular type, complement their presence more. Please feel the boldness and delicacy of the craftman`s skill.
Photo:Masaki Ozaki